<![if !supportEmptyParas]> <![endif]>
<![if !vml]>

<![endif]>
<![if !supportEmptyParas]> <![endif]>
<![if !supportEmptyParas]> <![endif]>
<![if !vml]> <![endif]>
<![if !supportEmptyParas]> <![endif]>
<![if !supportEmptyParas]> <![endif]>
<![if !supportEmptyParas]> <![endif]>
<![if !vml]> <![endif]>
<![if !supportEmptyParas]> <![endif]>
<![if !supportEmptyParas]> <![endif]>
<![if !supportEmptyParas]> <![endif]>
An Army whistle-blower's private war 
Friday, December 17, 1999 
By ED OFFLEY <![if !vml]>

<![endif]> 
SEATTLE POST-INTELLIGENCER MILITARY REPORTER 
<![if !supportEmptyParas]> <![endif]>
When Army Dr. Stephen Whitlock Smith took over the emergency room at the Landstuhl Regional Medical Center in Germany six years ago, he found a facility in deep crisis.  The U.S. military hospital's emergency room was suffering from acute staff shortages, aging equipment and inadequate supplies -- so much so that Smith feared for the safety of patients and medical staff alike.  "It was the scariest professional experience that any of us had ever thought we'd be involved in," Smith said.  Smith and his emergency room staff pleaded for more physicians and supplies. Personnel were working up to 60 hours a week for prolonged periods. At one point, a psychiatric nurse was assigned to the ER to monitor symptoms of suicidal behavior among staff members as a result of work-related stresses.  After two years of fruitless requests, Smith took a harder approach: He filed an official complaint against his Army superiors for failing to correct the problems.  This time, Smith saw immediate results.  He was fired as head of the emergency room. The hospital commander revoked his medical credentials. Smith was shipped 7,000 miles from his family to Madigan Army Medical Center at Fort Lewis, where he was held in a psychiatric ward for three weeks without a hearing.  Today, three years later, the 54-year-old lieutenant colonel remains at Fort Lewis, still engaged in guerrilla warfare with the brass, still working in the uncertain twilight of a military medical career gone sour. And still, he says, suffering illegal reprisals for his whistle-blowing.  "This was done intentionally to muffle me, destroy my career and family," said Smith, a soft-spoken but intense man. "I think they are trying to wear me out and they don't care if my family is destroyed in the process."  He is more than $30,000 in debt from lawyers' bills. For the past two months, he has been living in a tent at a Fort Lewis recreational campsite.  What Smith wants now is vindication, the opportunity to retire early from the Army, and to get a civilian medical license in Washington state.  Army officials won't talk about Smith's accusations, citing the privileged nature of most of the material involved, including Smith's own medical records.  An investigation into Smith's original complaint filed with the inspector general at Landstuhl and a review of working conditions at Landstuhl by the Army's European Medical Command found no evidence to support his allegations, officials said.  But the Pentagon acknowledges that the Defense Department is investigating allegations of mismanagement at Landstuhl, as well as Smith's complaints of reprisals from officials there and at Madigan.  Smith remains optimistic that the investigation will clear his name and reputation. He sees his battle as a war of attrition, and so far, Smith says, "I have survived." 
<![if !supportEmptyParas]> <![endif]>
An emergency room in crisis 
Smith reported to the Landstuhl Regional Medical Center as chief of emergency medical services in July 1993. It was his third stint as the head of an ER facility. He had the same job at a civilian hospital in Rhode Island, then was ER chief at an Army hospital in Denver before the transfer to Germany.  Smith and his family were excited about moving to Landstuhl.  "We enjoyed it for the day trips and weekend tours," Smith recalled. "It's the very best part of Europe to go touring from because everything is so close, whether France or the Bavarian Alps or the rest of Germany."  But work quickly began to crowd out family life, Smith said.  The medical facility in southwest Germany is the trauma center for all U.S. military forces in Europe, including troops deployed to crisis areas such as Somalia, Bosnia and Kosovo. It is open 24 hours a day, seven days a week.  Under Army policies, Smith's emergency room was supposed to have at least seven full-time certified ER physicians. But during the summer of his arrival at Landstuhl, the number dropped to four when departing physicians were not replaced.  In May 1994, Lt. Col. David Gillingham arrived at Landstuhl as the new chief of ambulatory care and Smith's immediate superior.  "I thought we would get along fine," said Smith, who was assigned to be Gillingham's sponsor to help with his processing and moving needs. "I picked him up at the airport and introduced him to the community."  The cordiality vanished about a week later.  Smith said Gillingham rejected his request for additional ER staffing even after being told the physicians were being forced to work 50-60 hours per week, and Smith was forced to work 60-70 hours a week to cover both ER shifts and his administrative duties.  At a meeting to discuss the ER staffing shortage, Gillingham's reaction stunned and angered Smith.  "Gillingham presided over the meeting and ordered me 'to work the ER doctors into the ground,'" Smith said. He quoted Gillingham as saying of the young doctors, "They are cannon fodder and have to pay back (for) their training." The stress took a toll on everyone working in the emergency room, including Smith.  "I was marooned at work," Smith said. "My family had to go on tours alone."  Smith, who has battled clinical depression for most of his life, said at one point he was hospitalized for nervous exhaustion.  "I don't dispute the fact that I became depressed as a result of the situation," he said.  In July that year, the number of available ER physicians dropped from four to three after a junior physician suffered a nervous breakdown, Smith said. Landstuhl officials eased the crisis by rotating other doctors into the ER for several months.  Smith's senior non-commissioned officer at Landstuhl, now-retired Sgt. 1st Class Stanley Gaines, said in an interview that hospital commanders refused to take steps to find qualified physicians for the emergency room. He also said they attempted to pressure doctors to minimize medical care to non-military patients.  "We didn't have the amount of staff to adequately take care of our patients," said Gaines, who now lives in Tyler, Texas. "I don't know the real reason, but we weren't getting supported and people didn't care."  By mid-1994, Landstuhl was treating more than 23,000 emergency cases a year -- an average of 63 per day -- but receiving administrative credit for less than half that number, Smith said.  Smith has accused Gillingham, his supervisor who also ran the hospital's family clinic, of diverting budget money and staffing positions from the emergency room by falsely claiming that more than 11,000 of the ER cases had actually been treated at the family clinic. Smith said this enabled Gillingham to obtain money and staffing support his facility otherwise would not have received.  "They were weak leaders and in a bad situation (with overall budget cuts)," Smith said of his bosses. "They didn't mind endangering patients to advance their careers."  That winter, Smith tried repeatedly to obtain support from his commanders to prevent another ER staffing crisis in the summer months when many physicians on temporary assignment to Landstuhl normally returned to their home bases. Smith said he was promised in February 1995 that the number of certified ER physicians would be kept at a minimum of five -- still two below the Army minimum of seven.  
<![if !supportEmptyParas]> <![endif]>
Confrontation 
In May and June 1995, two events occurred at Landstuhl that set Smith on a course of confrontation with his senior officers.  On May 8, Smith reported that the beeper system for contacting on-call ER doctors had failed the day before at a time the emergency room experienced several major trauma cases.  "We couldn't call in the specialists we needed to save lives," Smith said. "In the spring, Germany is a beautiful place, and the specialists are going to be out . . . depending on their beepers if there is an emergency."  Smith requested an immediate replacement of the system. It didn't happen.  Instead, his superiors became angry with him for pressing the issue, Smith said.  Less than a month later, while on duty as an ER physician, Gillingham treated a 17-year-old civilian, the son of an Army contract employee, who had suffered a head injury, Smith said.  Smith and Gaines say Gillingham sent the boy home with a written diagnosis of abrasions even though the youth had sustained prolonged loss of consciousness, had a severe headache and had no memory of the event.  The next day, the youth was rushed back to Smith's emergency room in a coma.  Smith says the emergency room beeper system failed again and the on-call neurosurgeon could not be located. In desperation, staff members rushed the unconscious patient to another medical facility about 50 miles away for emergency brain surgery.  The youth suffered permanent brain damage as a result of the incident, according to the Hilton Head Island, S.C., Packet, the newspaper in the young man's hometown.  According to the newspaper, the boy's family last year filed a $7.5 million claim against the Army, alleging malpractice. The Army judge advocate general's office ruled the hospital had not acted improperly. The Army has final review of claims filed against the service's overseas facilities.  After the office of Sen. Strom Thurmond, R-S.C., intervened, the family was offered a settlement, a spokeswoman for Thurmond said. Details of the settlement were not released.  Back in Germany, things continued to get worse for Smith and his emergency room staff. In September 1995, NATO carried out a fierce air campaign in Bosnia that paved the way for the deployment of 40,000 U.S. and NATO troops into Bosnia. Landstuhl was earmarked to handle any seriously injured peacekeepers. In a memo to one of his supervisors, Col. Kevin Kiley, Smith said U.S. casualties would overwhelm his emergency room.  The dispute between Smith and his staff on one side, and higher-ups at Landstuhl on the other, continued to simmer. On Feb. 12, 1996, Smith formally submitted his complaint to the inspector general at Landstuhl accusing Kiley of tolerating violations of standards established by the Joint Commission on Accreditation of Healthcare Organizations. The independent commission evaluates both civilian and military hospitals for correct standards of practice and administration.  Smith alleged hospital officials were endangering patients by purposely understaffing the emergency room and that his requests for additional doctors were repeatedly ignored.  Two hours later, Kiley stripped Smith of his medical credentials and ordered his immediate transfer to Madigan. Smith said different officials at Landstuhl told him different things. At first, he believed he would remain at Madigan for a brief medical checkup before returning to Germany. Other Landstuhl officials indicated Kiley had ordered a permanent transfer.  "The paperwork was pretty confusing, as well," Smith said.  One assistant to Smith said the transfer was a reprisal.  "It was done very viciously," said Gaines, the senior sergeant in Smith's emergency room. "He (Smith) wasn't being supported by his superiors and made some calls they didn't like, so they struck out at him instead of solving the problem."  Smith packed his bags. 
<![if !supportEmptyParas]> <![endif]>
Incarcerated at Madigan 
Twelve days after the confrontation with Kiley, Smith arrived for duty at Madigan on Feb. 24, 1996, and to his shock was locked up in the hospital psychiatric wing.  "They handed me the pajamas that patients wear who are not allowed out, and they told me I had to hand over all of my possessions except for my uniform," Smith recounted. "I was stunned."  He has records from his trip that indicate he stopped at Army Medical Command offices in Washington, D.C., en route to Madigan, where he met with officials and conducted routine business. He said there was no indication on his travel orders that he was to be placed under medical supervision or constraint.  Smith was released from the Madigan psychiatric unit in three weeks, and was surprised when Madigan's ER director invited him to join the ER staff. He had his medical credentials restored in full after several weeks. "It was as if the whole episode had not even happened," Smith said.  Smith said the incarceration violated numerous Army regulations because there was neither a formal hearing or any written orders committing him to the secure ward. He believes Kiley made a telephone call to Madigan officials that led to his incarceration.  Madigan officials declined comment on any specifics of Smith's complaints, including the hospitalization, but insisted that no patients are locked up without due process.  "We don't confine people in a hospital as a rule," said Col. Jim Gilman, Madigan's chief of medical staff and Smith's current superior.  But when Smith continued in the following months to press for Army and Pentagon investigations into Landstuhl, he said, officials at the Pierce County facility began engaging in reprisals against him.  In 1997, Smith said his medical credentials were restricted again for a brief time after officials learned the independent newspaper Army Times was investigating his case. And in September 1998, during a visit to Madigan by Dr. Sue Bailey, assistant secretary of defense for health affairs, Smith said he was forcibly detained by a security guard and dragged out of the area when he approached Bailey, an acquaintance from medical school.  Smith filed a criminal complaint with the Fort Lewis criminal investigative detachment as a result of the dragging incident. Several weeks later, he said, Maj. Gen. Mack Hill, commander of Madigan Army Medical Center, again restricted his medical practice rights. Hill, like other Army officials, declined to comment.  Smith said this complaint has been in limbo for more than a year. In March, the credentials committee at Madigan voted to restore his authority to practice medicine. He is currently fully active in the hospital's adult primary care clinic. 
<![if !supportEmptyParas]> <![endif]>
The price of whistle-blowing 
Married with two sons, one of whom still lives at home, Smith said the stresses of the past year had become so great that he took his family therapist's suggestion and temporarily moved out of his home. "We decided to separate until the stress of this business was less," Smith said. "I'm trying to protect her from all of this," he said of his wife, Virginia.  Deeply in debt from legal expenses, Smith said the only temporary housing he could afford was a tent staked at a campsite at North Fort Lewis, where Smith goes every day at the end of his medical shift at Madigan.  Smith said he finally decided to request early retirement from the Army but his application remains bogged down in the bureaucracy. Smith also is at the mercy of Madigan officials -- the same officials whom he said have engaged in reprisals against him -- to complete the routine paperwork that would allow him to apply for his state medical license.  Smith remains in what he calls "suspended animation," waiting for the Army to respond to his retirement request. He wants to get on with his life and work as an emergency room doctor in the civilian community.  Smith looks forward to rejoining his family. He visits them on weekends.  Two of the three Army officials Smith accuses of improper actions at Landstuhl remain on active duty.  Kiley, the former Landstuhl commander, is a two-star general serving as assistant Army surgeon general and deputy chief of staff for force projection. He supervises all Army physicians. Kiley declined a request to be interviewed.  An Army Medical Command spokeswoman said Kiley has recused himself from any personnel decisions involving Smith. "He has declined to comment on this issue," said spokeswoman Cynthia Vaughan.  Gillingham, Smith's direct superior at Landstuhl, is now a student at the U.S. Army War College in Carlisle, Pa. He also declined comment on Smith's allegations.  Lipsi, the former deputy commander for clinical support at Landstuhl, has retired from the Army and could not be located for comment.   P-I reporter Ed Offley can be reached at 206-448-8179 or edoffley@seattle-pi.com             
<![if !supportEmptyParas]> <![endif]>
<![if !supportEmptyParas]> <![endif]>
<![if !supportEmptyParas]> <![endif]>
<![if !supportEmptyParas]> <![endif]>
<![if !vml]> <![endif]>
<![if !supportEmptyParas]> <![endif]>
<![if !supportEmptyParas]> <![endif]>
<![if !vml]> <![endif]>
<![if !supportEmptyParas]> <![endif]>
<![if !supportEmptyParas]> <![endif]>
<![if !supportEmptyParas]> <![endif]>
<![if !vml]>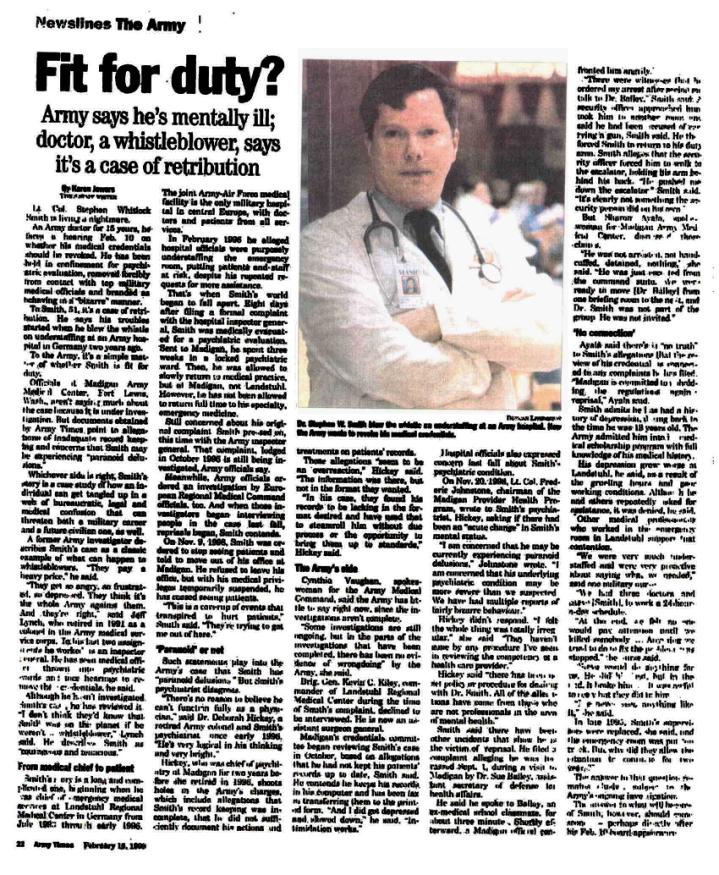 <![endif]>
  
<![if !supportEmptyParas]> <![endif]>
<![if !vml]> <![endif]>
<![if !supportEmptyParas]> <![endif]>
<![if !supportEmptyParas]> <![endif]>
<![if !supportEmptyParas]> <![endif]>
<![if !supportEmptyParas]> <![endif]>
<![if !supportEmptyParas]> <![endif]>
<![if !supportEmptyParas]> <![endif]>
<![if !supportEmptyParas]> <![endif]>
<![if !supportEmptyParas]> <![endif]>
<![if !vml]>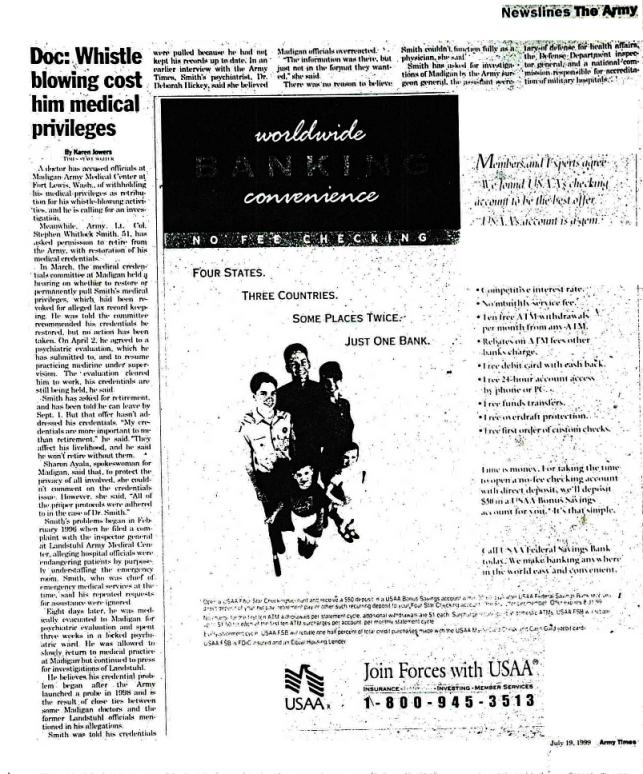 <![endif]>
<![if !supportEmptyParas]> <![endif]>
<![if !vml]>
<![endif]>
<![if !supportEmptyParas]> <![endif]>
(Excerpt from HILTON HEAD ISLAND PACKET, McClatchy Company)
See WWW.islandpacket.com
Header: Category: Local News, Creator: Mike Ramsey, Paper Date: 7/28/98,
Paper Page/Section: 1A, End of Header.
BY MIKE RAMSEY Packet staff writer
Bobby Wood was an experienced off-road cyclist, an "A" student and computer whiz when a bicycle wreck three years ago sent him into a coma and changed his life. Wood, now 20 and living on Hilton Head Island, still rides his bike every day and has been taking design courses at Savannah College of Art and Design. But itıs not the life he planned. He suffered brain damage, as well as loss of vision and some mobility, and he canceled his plans to attend Rochester University on a $32,000 scholarship. Worse, Wood and his family contend the damage might have been prevented had he received proper care at a U.S. military hospital in Germany, where Wood was living when the accident happened. "Iım angry, but what can I do?" Wood said. "They know they have done something wrong, but wonıt do anything about it." Wood has filed a claim against the U.S. Army for malpractice, but he and his family arenıt optimistic. The Armyıs Office of the Judge Advocate General in March turned down Woodıs initial claim for $7.5 million. Woodıs attorney filed an appeal and the results of the appeal should be back in a few weeks. If the appeal is denied, Wood has no recourse, said Pamela Brem, an attorney working for Wood. The case has attracted the attention of U.S. Sen. Strom Thurmond, R-S.C., chairman of the Senate Armed Services Committee. Thurmond has ordered an inquiry into whether the Armyıs review of the case was thorough and above-board.  John De Crosta, Thurmondıs press secretary, said it probably would take several months before any investigation results would be available. Wood was 17 years old in June 1995 when he fell off his bike and hit his head. He knows he was knocked unconscious, but does not know for how long. Wood's mother, Nohy Wood, took him to the closest hospital, Landstuhl Regional Medical Center, a military hospital.  It was a holiday weekend in Germany, and no local doctors were available, she said. Landstuhlıs emergency-room doctor sent Wood home after treating him for scrapes and bruises, according to Woodıs claim. The doctor didnıt admit Wood for observation or perform a CT scan.  The next day, Wood started bleeding inside his skull, cutting off oxygen to his brain, according to the claim. When Woodıs parents took him back to the hospital, there was no neurosurgeon at the hospital to perform surgery. Wood had to be taken to another hospital, delaying surgery by 70 minutes, the claim states. He stayed in a coma for two weeks and suffered brain damage.  Wood maintains that the emergency room doctor the first day should have admitted him to the hospital for observation and performed a CT scan. That would be standard procedure for anyone who lost consciousness for more than 30 seconds.  Legal hurdles, i.e. Woodıs legal battle with the Army is made even more difficult because claims against the military are handled differently than other types of civil claims. Brem said a division of the Army, called the Office of the Inspector General, investigates claims against the Army.  In addition, Army officers investigate and decide the claims. If they deny a claim, a victim can appeal the decision to federal court and go before an independent judge and jury. But if the incident occurs overseas, the process stops with the Army.  "Itıs a good faith system," Brem said. "Potentially, the Army could come back and say, Yes, we were negligent, but we still arenıt going to award you damages." Another lawyer working on Woodıs case, Richard Weiss of Boston, said he may file a lawsuit in federal court accusing the Army investigators of "not acting in good faith." He said facts had been ignored or unaddressed in the Armyıs denial. "Self-regulation doesnıt work on any level," Brem said. "One of the reasons doctors here work so hard to maintain high standards is the fear of malpractice. Doctors at the (military) hospitals overseas donıt worry because they know people canıt touch them." The lawsuit could end up in the U.S. Supreme Court, Brem said. Similar lawsuits, which attack the law governing this case have been challenged, but upheld by the Supreme Court. Dr. Stephen Smith, the former emergency room chief who saw Wood on his second visit to the hospital, has filed a series of complaints against the leadership at Landstuhl, citing Woodıs treatment as one example of a number of problems.  Despite what Brem calls "extremely substantial" evidence supporting Woodıs claim, neither she nor Weiss are optimistic about winning the appeal. Weiss claimed in the appeal that the Army investigator, Maj. Douglas Dribben, "misstated or distorted facts" in the case. Neither Dribben nor any other official in the Army Claims Service could be reached for comment.  In turning down the claim, the Army investigators said his parents should have brought him back to the hospital earlier, when Wood experienced shooting pain in his head. And the denial states that a CT scan the first day would not have revealed the bleeding in Woodıs head because it didnıt start until the next day. But Smith said that wasnıt necessarily true, and the doctor should have held the boy overnight anyway for observation because Wood had lost consciousness during the fall.
<![if !supportEmptyParas]> <![endif]>
<![if !vml]> <![endif]>
   
<![if !supportEmptyParas]> <![endif]>
<![if !supportEmptyParas]> <![endif]>
<![if !supportEmptyParas]> <![endif]>
<![if !supportEmptyParas]> <![endif]>
<![if !supportEmptyParas]> <![endif]>
                                                                                  EXCERPT
Editor
Tacoma, Washington
11 May 1998
<![if !supportEmptyParas]> <![endif]>
Dear Editor:
<![if !supportEmptyParas]> <![endif]>
………Several months after my abrupt departure from LARMC in 1996, another LARMC case, the "death of Baby V case," was reported as a complaint to the offices of LTG Blanck and Congressman Henry Hyde. The complaint and related information, which I have seen, describe a situation at LARMC in which Baby V's father, who was a military doctor, did not want to have a child with a birth defect and sought LARMC permission to allow his yet unborn child to die without treatment. According to the complaint, the baby's father gave a LARMC ethics committee misleading prenatal information and, when the ethics committee was unable to reach a unanimous decision, COL (P) Kiley reportedly made a command decision, before the child was even born, to allow the father, a military doctor, to withhold treatment once the child was born.
<![if !supportEmptyParas]> <![endif]>
When born, Baby V had a condition (meningomyelocele) that is easily repairable by remedial surgery, but often fatal if not repaired. The baby was allowed to leave the hospital without corrective surgery and died of meningitis within 2 weeks. Two families had reportedly offered to adopt the infant in order to save her life, but this offer was reportedly refused. COL (P) Kiley's decision, made before Baby V's birth, created a situation that apparently permitted Baby V's death. The circumstances surrounding Baby V's birth and death need to be investigated.
<![if !supportEmptyParas]> <![endif]>
The three cases (Dr. T, the February 1996 LARMC Inspector General case, and Baby V) show repeated endangerment of patient welfare under one Army Medical Center Commander, who should be required to account for his own role in the events described. Both of my Army Medical Corps Residencies-Emergency Medicine at Madigan Army Medical Center (where I have returned) and Internal Medicine at Eisenhower Army Medical Center-have taught me to uphold the standard of care for the patient's welfare. Neither of these centers would tolerate retaliatory actions against physicians and nurses that endangered patient care……..
<![if !supportEmptyParas]> <![endif]>
………Over two years have passed since I originally reported these problems and was confined to a psychiatric ward after doing so. The quality and integrity of the Army medical system are vital to the taxpayers who support it, to the parents who entrust their sons and daughters to it, and to the men and women in uniform who must rely on it. Congress must act if the Army is unwilling or unable to do so.
<![if !supportEmptyParas]> <![endif]>
Thank you for your attention.
Respectfully,
   <![if !vml]>

<![endif]>      
Stephen Whitlock Smith, MD
Fellow,  American College of Emergency Physicians
Fellow, American College of Physicians                                                                                                        
Lieutenant Colonel, US Army Medical Corps                                                                                 
Steilacoom, WA 98388
                  Cc:Lieutenant General Ronald Blanck, Army Surgeon General
Brigadier General George Brown, MAMC Commander
Madigan Army Medical Center Public Affairs Office
            Representatives Dicks, McDermott, Pelosi, Spence
            Senators Boxer, Feinstein, Thurmond
            For Record
<![if !supportEmptyParas]> <![endif]>